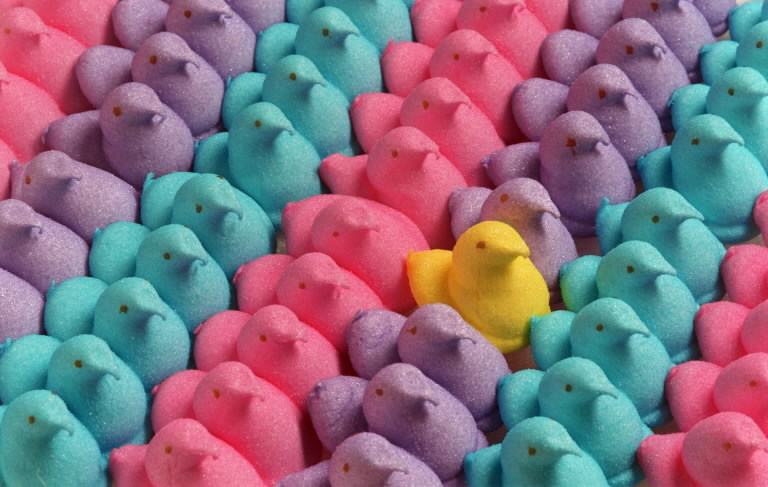 Easter is on its way and I can't help but get a little excited. I have always loved
Peeps
! The marshmallowy texture, the fine sugar on the outside...what more could one ask for in a treat? My Dad likes to tease me about trying to put them in the microwave to watch them grow and explode. I've never actually done that but it could be fun. Maybe if we ever move out of this house, I could try it in the microwave before we leave; watch out future homeowners!
Anyway, the reason that I'm bringing this up is because I have found so many fabulous Peep inspired crafts that I want to share with you. I may not get to all of them. Or any of them. But, you might have time so you should check them out!
Beth Proudfoot on
It is what it is
has fun seasonable printables that anyone could use and look like a professional. Here's a link to her
"Sweet Tweets"!
A Lemon Squeezy Home
has an idea for Peeps t-shirts using a Silhouette Machine or freezer paper stencils. If anyone wants to donate a Sillhouette Machine to me, I'm happy to give it a good home. I'll use it weekly and will even share my project ideas with you. Ah, dreams are nice, aren't they? Anyway, these t-shirts are great because they're a good project for moms of boys. It's harder to find things to make for boys as they grow up!
What? Seriously, I could make my own Peeps? That would be totally fabulous! There are step by step instructions on Instructables.com. Here's the link!
http://www.instructables.com/id/Marshmallow-Peeps/
. And, if you don't like those instructions, here is another idea for making peeps:
http://www.twigandthistle.com/blog/2009/03/diy-marshmallow-peeps/
If you're not into eating the sugary treats but you want to make memories, check out this
free pattern for Felt Food Peeps
.
Have fun hanging out with your Peeps! (I couldn't resist!)